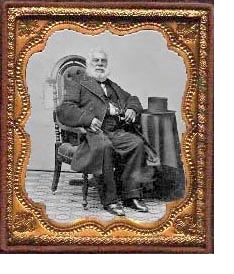 Pío de Jesus Pico, 1801-1894, was the last Mexican governor of California. The name Pico has become a familiar Southern California place name, from busy Pico Boulevard, the City of Pico Rivera, and the Pico House. His name has been commercialized in several businesses, from corner grocery stores, shopping malls and dry cleaners. Despite this veneration in our present public memory, much of what we know about Pico remains clouded in myth. In a lifetime that spanned 93 years under the flags of Spain, Mexico and the United States, his rise from humble beginnings to the highest office in the state places him among the most remarkable figures in California history.
Indeed, Pico's story also is a Los Angeles story. He was born on May 5th. 1801 at Mission San Gabriel and was the eldest son of a large family. He joined the army for a brief time and in 1828 became a member of the Deputación (Territorial Assembly). The following year, he received his first land grant of 8,922 acres near San Diego, named Rancho Jamul. In 1841, Pico and his younger brother, Andrés, were awarded the 133,441-acre Rancho Santa Margarita.
Pico spent most of his adult life in Los Angeles where he helped to transform a remote pueblo into a major world metropolis. After a brief stint as governor in 1831, he became administrator of Mission San Luis Rey. In 1834 he married María Ignacia Alvarado, a member of a respected Los Angeles family. In 1845, he led a popular coup against Governor Micheltorena, resulting in his rise to the governorship, a post that lasted until the arrival of invading United States forces in 1846.
In 1870, Don Pío sold his vast landholdings in the San Fernando Valley to provide capital for the construction and furnishing of the Pico House, the city's first three-story building and first elegant hotel. Sadly, only 10 years later he lost the hotel and other properties to foreclosure. He was later swindled out of his home and rancho in present-day Whittier. Although he died a poor man, he remained a proud and stately figure.
Pío de Jesus Pico, soldier, businessman, ranchero, governor and citizen, his legacy will live on for generations to come.